ExitPulse
A complete, easy-to-use and affordable online system designed specifically to survey departing health center employees.

The National Association of Community Health Centers (NACHC) has developed ExitPulse, an online exit survey system. ExitPulse is the outcome of a coordinated development process between NACHC, health center representatives and Insightlink Communications, a national provider of employee exit and satisfaction survey systems. The questionnaire for departing employees was customized specifically for use by health centers and has been fully tested for both content and usability.

With ExitPulse, health centers can easily survey departing employees to track their reasons for leaving and their attitudes toward the health center. Through the NACHC ExitPulse system, all survey results are available in real-time and can be accessed using the ExitPulse online reporting functions.

These findings can then be compared to the aggregate results from all participating health centers nationwide. Comparisons to the national aggregate database will help health centers design effective retention strategies.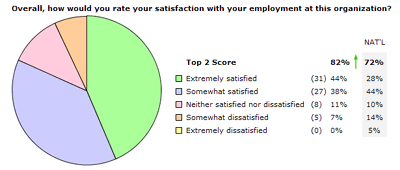 The NACHC ExitPulse system is available at a reasonable annual subscription fee and a preferred cost to NACHC members.

For additional information about ExitPulse and/or StaffPulse, please contact Beth Kujawski.
ExitPulse Benefits
| | |
| --- | --- |
| | Easy to use for both health center administrators and departing employees |
| | Real-time reports including charts and graphs |
| | Validated questionnaire |
| | System fully tested by health center representatives |
| | Comparisons to national NACHC ExitPulse database |
| | Subscription includes training CD, online users manual, online data analysis guide and personal technical assistance |
ExitPulse Sample Dashboard

mouseover to enlarge


ExitPulse Testimonials
"The ExitPulse survey is very simple and straightforward. All exiting employees using it liked it very much. Being an "On-Line" survey, they liked it much more and felt more comfortable than doing a face-to-face hardcopy with an HR person".
"ExitPulse is a dramatic improvement over our old paper system. It centralizes all our exit interviews and provides data in a quick and easy format that allows us to see trends and compare our results to national data."
"We piloted the exit survey ExitPulse and found it very easy to use from a human resource department perspective. Departing staff never refused to participate, in fact, they enjoyed going through the exit survey process. It's confidential, easy and quick but most of all it asks the right questions in an environment that encourages departing employees to answer truthfully and objectively. We can't say enough about it's ease and benefit to the organization."